MEET BOOK BABES.
Walking into a bookstore or searching Amazon to find the right book can be overwhelming. Getting a recommendation from your best friend? Way better.
We're four real-life besties who love to read - and then talk about what we're reading, usually over a glass (or three) of wine. We created Book Babes because we think reading is magical, and we want it to be magical for you too.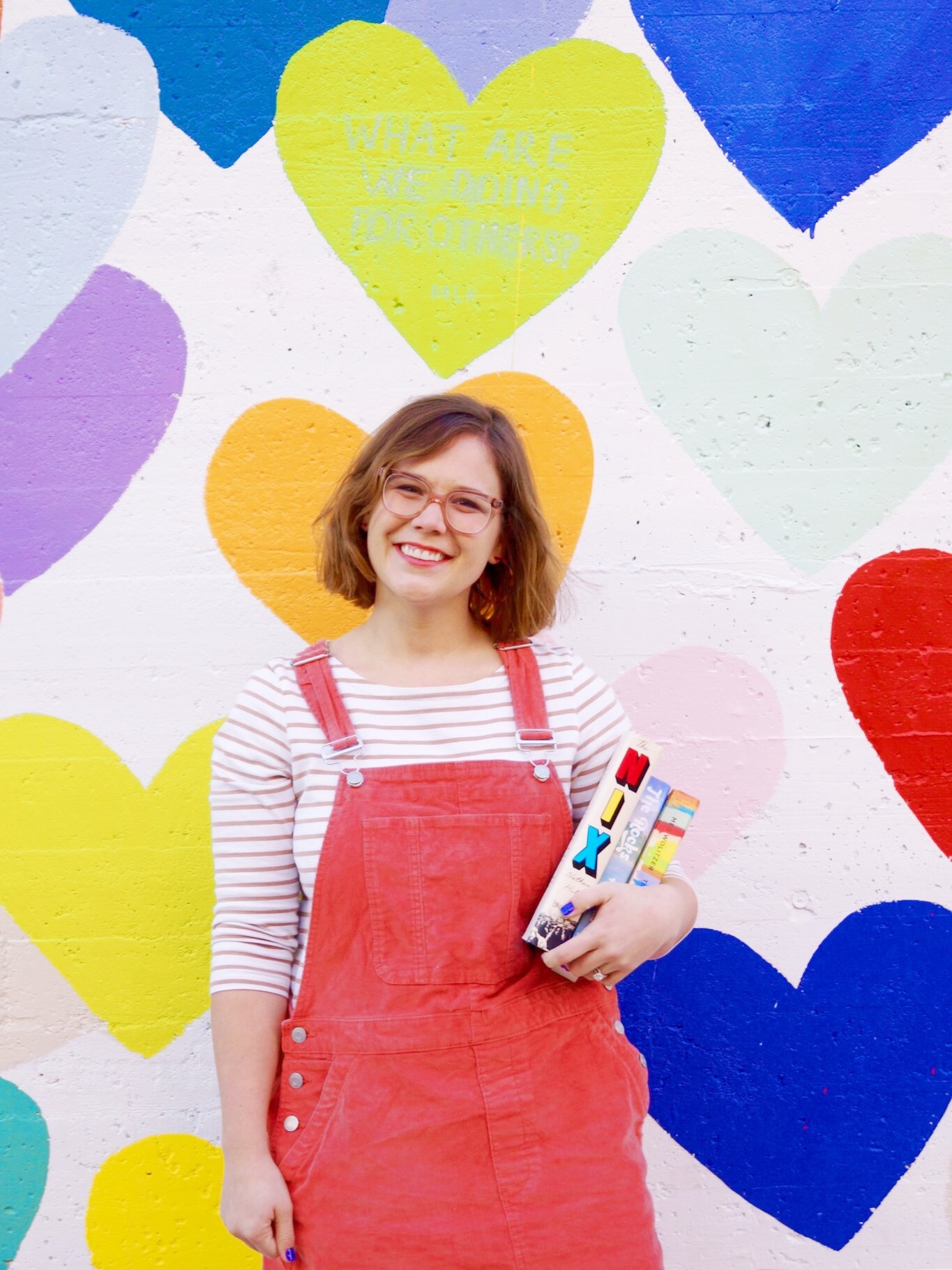 Marketing maven by day.
Obsessed with her two dogs, Jasper and Ruby.
Hitched to a bearded web developer named Fritz.
Lover of homemade pasta and rosé.
Favorite childhood book:
I was obsessed with the "Dear America" historical series and all the Little House on the Prairie books (I was weirdly into historical fiction).
Current genre of choice:
Mostly literary fiction where nothing really happens except some quiet family drama. Occasionally some non-fiction when inspiration strikes (RBG, anyone?).
Favorite reading spot:
My couch, with a blanket and cup of coffee, early in the morning before my husband or dogs are awake. Or, when it's warm out, the backyard.
Favorite place to get books:
Park Road Books is my favorite local bookstore!
Content strategist queen by day.
Mother of two spooky black cats.
Judges books by their cover.
Judges wines by their label.
Favorite childhood book:
Charlotte's Web. Hands down. I was asked to bring a prop for school pictures in 3rd grade and while most kids brought beanie babies and soccer balls, I posed in my corduroy overalls with Charlotte's Web.
Current genre of choice:
I'm kind of all over the place. I'd say I lean toward fiction but I dabble in essay collections and memoirs. I'm a sucker for any author who can tell a compelling story.
Favorite reading spot:
When it's nice outside I love to read in Romare Bearden Park on my lunch break.
Physical books or E-books?
Nothing compares to holding a real book and turning the pages. I'm old school like that. But I do love the free e-books from Charlotte Mecklenburg Library's Libby app because I'm a millennial.
Advertising copy enchantress by day.
Tamer of a scruffy, white dog named Sally.
The token poetry lover of the group.
Old World wines only, plz.
Favorite childhood book:
It was a book about a mouse who decides to go play outside (even though it is raining! - this is the central conflict!) and goes into GREAT detail about each article of clothing he puts on beforehand. No one in my family can remember what this tale for burgeoning OCD sufferers was called. DOES THIS BOOK SOUND FAMILIAR TO YOU?! If you have any information about this book, please contact us immediately at hey@bookbabesclt.com. You will be rewarded, though we can't tell you how, and you definitely won't be.
Current genre of choice:
Memoirs, collections of personal essays (FUNNY ONES), psychological thrillers, poetry, nonfiction (NON-BORING THO).
Physical books or E-books?
If mama can't hold it, mama don't want it.
Favorite place to get books:
The library!!! Not going to tell you which branch though because I don't want it getting all jammed up with clammy book-snatching hands.
News-producing badass by day.
Proud owner of a fluffy cat named Pickens.
Makes running look a little too easy.
Don't pour her anything but Cab.
Favorite childhood book:
Do "I Love Lucy" DVDs count? Honestly, my love for reading developed a little later in life, once I was old enough to dive into the scary young-adult books.
Current genre of choice:
Murder. OK, I realize murder is not a genre, so I'd label it suspense or thriller. A strong female lead is also key. A woman who gets murdered, witnesses a murder - or plots murder.
Favorite place to get books:
My friends. They have great tastes in books (have you heard of Book Babes?) and we're always swapping.
What's the most embarrassing book on your shelf?
I'm not embarrassed of any of them separately. But I think the combo makes house guests a little uneasy. "Is this research? Why did she invite me over? Did she lock the door behind us?"